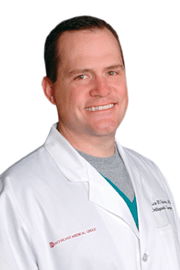 Dr. Guinn, M.D.
Undergraduate: Tulane University, University of Edinburgh, Scotland
Medical School: Tulane University
Residency: University of Arkansas for Medical Sciences
Specialty Interests: Sports Medicine, Knee and Shoulder Surgery, Injury prevention programs (Female ACL, thrower's shoulder)
Dr Guinn is a graduate of Jonesboro High School. He returned to Jonesboro in 2002 after completion of his residency. He then served in the United States Army in Iraq as a Combat Surgeon in the 1st Forward Surgical Team (Airborne) most of 2003. He again deployed under Operation Iraqi Freedom/Operation Enduring Freedom in 2006. He currently specializes in Sports Medicine and Orthopaedic Surgery, and he is the Co-Medical Director and Team Physician for Arkansas State University Men's and Women's Athletics.
He is also a member of the Arkansas State Police SWAT team, where he serves as Medical Director and a Tactical Medic. Dr Guinn is the President and co-founder of the Stop the Bleeding Foundation. This is a non-profit foundation that provides free medical training and equipment to Law Enforcement, Fire/Rescue, First Responders, and community organizations. He has taught Tactical Medicine and Combat Surgery to Special Forces and conventional units in Colombia, Ecuador, Peru, Brazil, and the United States.
Outside of work, he is active in cycling, mountaineering, powerlifting, and yoga. He has three daughters, and he is married to Dr. Veronica Guinn. They are members of St. Mark's Episcopal Church.