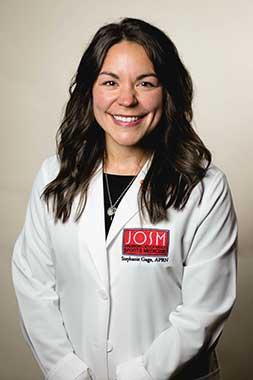 Stephanie Gage, APRN
Stephanie was born and raised in Jonesboro, AR. She graduated with honors from Westside High School in 2005 and graduated from Arkansas State University with a Bachelors in Biological Sciences in 2008. Upon graduating, she began working as a medical assistant for Dr. Jeremy Swymn and Dr. Brian Dickson for 8 years until deciding to attend nursing school. Stephanie graduated from the Accelerated Bachelor of Science Nursing program at Arkansas State University in 2017 and immediately applied to the Family Nurse Practitioner Master's program, from which she graduated in May 2020 and I returned to JOSM as a Family Nurse Practitioner.
Outside of work, she enjoys spending time with her family and friends as well as running, kayaking, and yoga. She is married to her husband Joey and they have one daughter. They are members of Central Baptist Church here in Jonesboro.